Something Special, Sleeps 5! The Perfect Getaway!
Celý objekt kondomínium (kondo) od hostiteľa Jackie
5 hostí

·

Štúdio

·

3 lôžka

·

1 kúpeľňa
Celý objekt
Celý objekt typu kondomínium budete mať len pre seba.
Rozšírené upratovanie
Tento hostiteľ sa zaviazal k dodržiavaniu 5-krokového procesu rozšíreného upratovania Airbnb.
Samoobslužný príchod a ubytovanie sa
Príchod a ubytovanie sa pomocou kódovanej schránky na kľúče
Niektoré informácie sa môžu zobrazovať v pôvodnom jazyku.
Something Special, Sleeps 5! The Perfect Getaway!



Priestor


Gorgeous gas fireplace that will keep you toasty warm, and a powerful AC to keep you cool in the summer. Free Amazon Prime Music on an Echo Show 5, Private Luxury Towels & Bedding, Amazing Beds, Free Coffee & Hot Chocolate, Free Washer & Dryer in your Kitchen, Candle Lit Baths, Professional Cookware, Adirondack chairs & Fire Pits on Saco River, Olympic Indoor and Outdoor Pools and Indoor & Outdoor Hot Tubs & Kiddie Pool, On-site Restaurant & Bar, Hospitality Center, Fitness Center, Sauna, Steam Room, His & Hers Locker Rooms with Showers, Air Hockey, Pool Table, TV, Arcade Games, Free Local Newspapers, 24/7 Snack & Drink Machines, ATM, Giant Free Ice Machine, DVD rental vending machine, Tennis Courts, Playgrounds, Outdoor BBQ Crazy cheap right? Plenty of Grills (Gas and Charcoal), On-Site Walking/Hiking Trails, Mountain Biking, Snowshoeing, Ice Skating, Kayaking, Fishing, Old Fashioned Horse-drawn Sleigh Rides on a One-Horse Open Sleigh, Ping-Pong tables, Foosball, Fire Pit to Toast Marshmallows, Blow Dryer & First-Aid Kit, Charmin & Puffs Plus Brand Tissues, Games, Games, and more Games, Huge TV/DVD, Air Conditioning & Ambiance, Private, Fast, & Secure Wi-Fi, Black-out Curtains & 2-way Mirrored Sliding Glass Doors, Remote Control Lighting, Huge Backyard, Free Parking, Key Card Access, Self-Check-In/ Self-Check-Out, Extra-Large Bureau, Storage Closet, Shaded Patio with love seat, table, and chairs. Simple Human throughout, Fold-away Tables & Step Stool, Private Locking Ski Locker, Super Clean, Smoke-Free, Pet-Free, 5 minutes to Storyland, FAIR TRAVELER POLICY, Optional Accidental Damage Insurance, and so much more.

Details:

Located in in the quiet and quaint little village of Bartlett, NH at the base of the world famous Attitash Mountain is a wonderful resort called Attitash Mountain Village Resort. It's a four-season destination resort surrounded by towering mountain peaks rising from the banks of the Saco River blanketed by native pine and white birch trees.

Our home in the resort comfortably sleeps 5 people on brand new American Leather brand King, Queen, and Twin sleeper sofas.
Here is what we mean when we say we will give you the best of everything...

From Free Amazon Prime Music on an Echo Show 5 to private luxury bedding and linens, to gourmet hot cocoa, we really do give you the best of the best, with all the bells and whistles too. It can also answer questions about the resort. For example you can ask, "Alexa, where is the pool?" or "Alexa, what time does the pool open?" It will also answer questions about the local area like "Alexa, where is the best coffee", or "Alexa, where is the movie theater". It answers with information from its data base and also from information that I am now personally programming into it. It will also of course be able to tell you all of the things that every Echo device can tell you like the weather forecast, sports scores, (video) recipes, facts about almost anything and so much more.

Private Luxury Towels & Bedding
First, just about every rental unit in this resort, actually maybe every single unit in this resort, all share the same bedding, blankets and towels and they rotate them among all of the units. One of the greatest things about our home is that we do not use the shared resort bedding, blankets and towels. If you've ever stayed at this resort, you know why that matters so much. Our bedding, linens, and towels are imported from Turkey and Egypt and are the best we could find. You will sleep like a baby in the soft plush bedding and fluffy pillows. The luxury towels will pamper you as you dry off from the shower or pool. Nothing but the best of the best for our guests. That is the theme that you will see at our home, the best of the best.

The Beds
If you are not familiar with American Leather brand sofa beds, they are the best of the best. There are sofa beds, then there are American Leather. They are not the old school "bar in your back" sofa beds. These have no bars. These are the best sofa beds that money can buy, and they are also the top of their line, the best model that the company makes. Many guests have told us that they actually sleep better on these than they do on their own bed at home. Also, these beds open and close with ease. Simply lift the handle a little and walk backwards. Reverse the procedure to close. It could not be easier.

Free Coffee & Hot Chocolate
We supply you with a Keurig K-cup machine, coffee, and hot chocolate, but not just any coffee and chocolate, it's Dunkin Donuts and Starbucks coffee, and Starbucks gourmet hot chocolate.

Washer & Dryer
Need to do laundry? We installed a top of the line Bosch washer and dryer for you and it is right in the kitchen area. Not only that, but we also we supply you with Tide pods, non-chlorine bleach, and Downy dryer sheets for all of your laundry needs. We even supply a convenient, space saving pop-up clothes hamper, and a built-in over-the-tub "bathing suit" clothes line. Got wrinkles? No worries, we supply a modern clothes iron and mini ironing board that will help you take care of that. All free!

Candle Lit Baths
Need to unwind, relax and let the world drift away for a while? Draw yourself a nice bath and enjoy the remote control candles for a peaceful and relaxing escape from it all.


Cook like a Professional
Feel like cooking? We have a brand new LG refrigerator, top of the line microwave, and brand new stove. We also supply you with all a full set of stainless steel Emeril cookware for cooking, including a brand new beautiful stainless butcher block knife set, powerful Ninja Blender, an Ivation electric kettle, and just about everything else you would even need when cooking. Time to eat? The island-style kitchen table has all new swivel bar stools ready to go.

Blow Dryer & First-Aid Kit
Forgot to bring your blow dryer from home? No worries, we have one here, tucked away in the bathroom vanity. Your little one got a boo-boo at the park? No worries, there is a fully stocked first aid kit on-hand on the closet shelf. These and so many other things are what set us apart from the rest.

Charmin & Puffs Plus brand tissues
We know from firsthand experience that other rentals in the area supply tissues and toilet paper that are so thin that you can see right through them. Not us, we supply Puffs Plus brand tissues and Charmin toilet paper. The best of the best.

Games, Games, Games
Feeling retro? We bought for your enjoyment lots of new board games like Battleship, Candyland, Uno, Stratego, Chess, Monopoly, Connect 4, and more. Kids missing their video games? How about an X-Box with a stack of games as tall as most of the kids playing them.

TV/DVD
Feel like having a movie night? We got you covered. Kick back and enjoy the brand new 50" LG Ultra High Definition Smart TV complete with an up-scaling Sony Blu-ray Ultra High Definition DVD player, some family friendly movies, and even an air popcorn popper. Do you see the theme here? The best of the best across the board.

Air Conditioning & Ambiance
In the warmer months, the powerful air conditioner provides nice cold air really fast. Now since the fireplace is also the heater and no one wants the heat in the warm weather but they still might want the ambiance of the fireplace, we offer the best of both worlds with a fancy "fire" bulb installed in a wall sconce that provides the soothing flickering glow that simulates the cabin fireplace aura that we all love to enjoy.

Private, Fast, & Secure Wi-Fi
Most guests at this resort use the resort's free Wi-Fi. The resort Wi-Fi forces you to log in every few hours and it's very slow and unreliable. Contrast that to our home where we offer you private, fast, & secure Wi-Fi.

Black-out Curtains & 2-way Mirrored Sliding Glass Doors
Need to get some deep sleep? We offer Sunbrella blackout curtains and built-in fasteners to secure the curtain so not even a single ray of light gets in. But wait, some people like to sleep with some sunlight coming in. No problem, we installed 2-way mirrored sliding glass doors with UV shaded protection. As long as its darker inside than it is outside, the glass doors will become a mirror for complete privacy.

More Great Amenities…
Some other things you will enjoy here is the remote control kitchen lighting, a huge back yard for outdoor games and fun, plenty of free parking, key card access with self-check-in and self-check-out, an extra-large bureau, a storage closet with plenty of hangers, and a nice shaded patio just outside the glass doors with an all new wicker love seat, table, and chairs. Sounds awesome right? It really is, and we welcome you to come enjoy it all.

Simple Human
Of course all rental units have trash barrels, but we supply Simple Human foot controlled trash barrels. The best of the best. Speaking of Simple Human, we also supply a Simple Human steel frame dish rack with a swivel spout, and Dawn dish washing liquid. We also have a Simple Human deluxe shower caddy, and convenient hand-held shower head.

We really have done our best to think of everything you could possibly need for the best possible experience that we can provide for you.

Brand New Gorgeous Fireplace to keep you toasty warm
Our fireplace is a sealed gas fireplace, not a wood burning fireplace. The logs next to the fireplace in the pictures are actually cute little pillows. You can't actually burn wood in the fireplace. When it's running, it looks as if wood is burning as the real flames flicker and burn around ceramic wood-like imitation logs behind sealed glass and a safety screen cover. So it's the best of both worlds without the hassle, mess, smoke, and other negative aspects of a real wood fireplace.

Private Locking Ski Locker
Skies, ski boots, ski gear oh my! (Sung like, "lions & tigers & bears, oh my!") There is nothing worse than having all that gear taking up space, falling over, and messing up your vacation home. Not to worry, our home comes with its own private locking ski locker conveniently located in the building's vestibule. As you walk in from a long day on the slopes you can stop and drop off all your gear in the full sized lockable ski locker.

Beyond Clean
Our home is meticulously cleaned by an awesome person, not a cleaning company and the result is that every square inch of our home is sparkling clean. Nothing but best of the best for our guests, we would have it no other way. Our building is known as a quiet, comfortable and clean place to stay but of course occasionally there are some kids running around the building and that just adds to the fun vacation atmosphere.

NOTE: OUR HOME IS SMOKE FREE!
In fact, the entire building is a smoke-free building. Smoking outside on the patio is permitted but we ask that you please make sure any doors or windows near where you are smoking outside are closed tight to prevent smoke from coming inside.

NOTE: OUR HOME IS PET FREE ROOM!
We do love animals but our daughter is allergic to cats and dogs and so we can't allow pets.

The Resort:
When you hear the word "resort", many things probably come to mind including relaxation, fun, activities, and more. Well not to worry, this resort will not disappoint you when it comes to all those things and so much more. Here is a more detailed look at the resort. Step out your door and look behind you and you will see the majestic Attitash Mountain towering into the sky. Then right in front of you, near the of the tennis courts, is a path through a small patch of forest. Just a 5 minute walk down that path and you will be see 2 rocked beaches right on the Saco River. There you can take a nice walk along the moonlit river, jump right in for a cool refreshing swim, drop in a kayak or raft, or even toss in your fishing line. Enjoy the picnic tables, ultra-chill Adirondack chairs, and even more fire pits on the banks of the famous Saco River anytime of the day or night.
There is a link to a video of "The Outback at Attitash Mountain Village" on the Attitash Facebook page that I can't link to here, but it's worth a look.

The best part of the resort is that all of the amenities are free, included with the cost of your stay. Except the sleigh rides, they do require money.

From Olympic sized indoor and outdoor pools and Jacuzzis, to boating and rafting, fishing and golf, game rooms, the steam room and the gym, you will literally want for nothing when you stay here. Right in your backyard to the left is a huge pool and Jacuzzi, a bath house with a gas fireplace, a shuffleboard court, a kiddie pool, BBQ grills, an ice machine, and more. Directly behind you there are tennis courts, a basketball area and a volleyball court. There is also a playground and even a regulation horseshoe pit. To your right behind you are two ice skating rinks, a fire pit where we toast marshmallows and tell stories.

A short few minute walk down the path behind the building next door is a great restaurant, full bar and indoor pool. Across street is the famous Attitash Mountain with great skiing in winter and in the summer and fall there are mountain coasters, stunt jumping, zip lines, water slides, and so much more. All of that is always just a 5 minute walk from our home.

The Restaurant

Attitash Mountain Village's on-resort restaurant Matty B's is great for lunch, dinner, or for a quick snack on the go. Matty B's menu has all the classics like pizza, burgers, fries, milkshakes, nachos, wings, cheese steak subs, mac & cheese, fish tacos, burritos, and more. If you prefer a lighter fare, you will also find veggie burgers, turkey sandwiches, and great salads and more. Located in Attitash Mountain Village's Hospitality Center, Matty B's is a great place to go when it's time to eat, drink and be merry. Dine outside on the 3 season outdoor patio or inside in the cozy restaurant. Someone having a birthday or party? Catering and on-site party booking is available. Hours of operation vary by season, but mostly it is open every day, Sunday - Thursday 11am to 9pm, Friday and Saturday 11am to 9:30 pm with a full bar of cocktails served until 10 pm in the lounge.

The Hospitality Center

Just a few minute walk from our home and you can be in this amazing building. You could literally spend your entire vacation right here in this building. It has an amazing Olympic sized indoor pool, outdoor whirlpool spa, sauna, his and hers locker rooms with restrooms and showers. It also has an entertainment room with air hockey, a pool table, TV, arcade style video games, and more. Do you sometimes wake up early before the rest of the family? Stop in the lobby for free morning coffee to enjoy in plush super comfy easy chairs with of course free local newspapers and flyers for hundreds of area attractions to read, or just stop in each morning for a free coffee to go on your way out.

There are 24/7 snack and drink machines, an ATM, and a giant free ice machine to load up your coolers before heading out, especially on hot summer days. If all that wasn't enough, there is an amazing huge restaurant right inside the building with great food and a full bar. So if Mother Nature doesn't cooperate and you are looking for a way to spend a rainy day, come on by the Hospitality Building and make a day of it. You will like it so much, you'll find yourself coming back even when the weather is nice. The Hospitality Building maintains a good supply of board games for all ages and are available at no charge. There is also a DVD rental vending machine (requires a credit card). The Hospitality Center also has a full size conference room for meetings, parties, and more.

Olympic Size Pools & Jacuzzis Indoor and Outdoor

In the White Mountain area, an indoor pool is a rare treat. Great for rainy or cold days and for those who like to swim but not under the hot sun. The resort's indoor pool is a fun escape for the entire family that can be a great day out, without ever having to leave the resort. Plenty of natural light, makes it feel like your outside, when you are actually safe, dry, and warm inside. Adjacent to the indoor pool are "his & hers" locker rooms, complete with lockers, showers, and restrooms as well as a toasty warm sauna and indoor and outdoor whirlpool spas. Sit back and relax as the warmth of this year 'round whirlpool spa encompasses your entire body with deep muscle relaxing heat and bubble jets. The best part is the view from the outdoor Jacuzzi. The wonderful surroundings include a bank of tall pine trees and to your right you can watch people skiing and snowboarding on the famous Attitash Mountain. One of my daughter's fondest memories is sitting in that toasty warm whirlpool one night last fall as a brisk early snow began to cascade down all around us; a great feeling for sure.

Like swimming in a forest lake, the massive outdoor pool has wonderful views too. If that wasn't enough, for your convenience the outdoor pool area also has a grand pavilion with a gourmet barbecue station, picnic area, and poolside cabana for changing and showering after a day or night of swimming or relaxing poolside with a warm gas fireplace, clean warm bathrooms, changing rooms, ice maker, and more. Chilly night? Slip into the outdoor whirlpool spa next to the outdoor pool and let the warmth of the whirlpool spa contrast against the cool crisp night mountain air. There is a large kiddie pool there as well. (A second non-heated outdoor pool is located at the top of Cow Hill Road. Go East on Route 302, and then take the next right up the Attitash Mountain Road to the top. Ask me for pool gate access code. The pools are open daily from 10 am until 10 pm.

Fitness Center
The Fitness Center is a fully equipped gym located in the lower level of Building 7. The gym with its steam room, hot tub, changing rooms and showers are available from 7 am to 10 pm. The equipment list includes free weights, hoist multi-station strength training equipment, Stairmaster treadmills and bikes, Cybex steppers, Nautilus, and Cybex Arc and Elliptical trainers, and more. Whether you're in a serious training session or enjoying a leisurely stretch, the equipment and amenities at Attitash Mountain Village's Fitness Center can help you reach or maintain your fitness goals.

Tennis Courts

Two Tennis Courts are right across from our home, just a one minute walk away. The clay courts are located on Cow Hill Road; stop by the Front Desk for a key to the clay courts. Tennis Rackets and balls are available at the front desk. Enjoy these meticulously maintained courts shaded beneath towering Douglas fir pines in this amazingly beautiful setting. From singles to doubles, beginners to advanced, tennis enthusiasts can enjoy playing by day or under the lights at night.

Playgrounds

From climbing and swinging to riding, bouncing, spinning and smiling, Attitash Mountain Village's several outdoor playgrounds scattered about the 60+ acre resort encourage active play and contagious laughter for children of all ages.

Outdoor BBQ Grills

Located throughout the resort, guests have access to master grilling stations under the cover of traditional gazebos for that finishing touch to a perfect day of visiting popular attractions, relaxing poolside or coming off the trail from a long hike. Grilling stations are fully equipped and ready for use at your convenience. Our guests can enjoy 2 BBQ grills just steps from your sliding glass doors. One is a charcoal grill for the traditionalists and the other is a gas grill for a speedy meal.

Walking/Hiking Trails

Nestled beneath towering pines along the flowing waters of the Saco River, our guests can step right from the patio door step and out onto the trail. Experience scenic landscapes, connect to additional networks of trails and take in the beauty of the Mount Washington Valley. Along the way, on a trails less traveled, you may even encounter the elusive, yet often sought after moose feeding in one of the many ponds or upon the river banks. The Saco River Trail and Fitness Stations can be accessed from the hard surfaced Tennis Courts or from the outdoor pool area. These trails lead to the Saco River and connect with the Bear Notch Cross Country Trails to provide a variety of options from short to long walks. A property map and additional trail maps are available at the Front Desk in the hospitality Building.

Mountain Biking

Experience the solitude of the mountains and the thrill of riding in a pristine, natural setting along the Saco River and old forest of pine and hardwoods. Attitash Mountain Village's network of mountain bike trails is accessible to all riding enthusiasts from beginner to expert, linking to additional trail systems throughout the Mount Washington Valley. Also, if you are feeling really adventurous, you can head across the street to take your bike up the ski lift then ride it down the huge mountain!

Snowshoeing

There is no sound comparable to the crunch of fresh fallen snow below your feet as you snowshoe through a foot of fresh powder. Our guests can access the resort's network of trails, or adventure off trail into the snow-laden pines seeking out the path less traveled. Fun for all ages, snowshoeing is a great activity for the whole family to enjoy. Pack a lunch, put on your day-pack and get outdoors…the woods and mountains of the Mount Washington Valley are calling to you.

Ice Skating

Two ice skating rinks (seasonal) are located to the right of the tennis courts. With the snow falling, and laughter echoing among the mountain hollows, families can be found gliding across the ice making figure eights, pushing a puck with stick in hand, or gliding between Mom and Dad's legs as they try skating for the first time.


Kayaking

The opportunities for outdoor adventure at Attitash Mountain Village are endless, and with the Saco River traveling along the outer boundaries of the resort, kayaking its waters offers a memorable experience for boating enthusiasts of all abilities. Depending upon the time of the year and amount of snow melt and rainfall, the Saco River can take on many personalities. From tranquil babbling waters, to class II and III rapids, the Saco River offers something for all paddling enthusiasts.

Fishing

Come spin your reel or go fly fishing to fish for native brown and rainbow trout. Fishing License may be required. Be sure to contact NH Fish and Game to make sure you comply with all Federal, NH State, and local town of Bartlett regulations.

Old Fashioned Horse-drawn Sleigh rides on a Two-Horse Open Sleigh
Our guests can step back in time when life was simpler and experience the majestic wonder of sleigh bells echoing through the forest of towering pines as the snow glistens, illuminated by lanterns on the trees guiding the way to lifelong memories. Welcome to Attitash Mountain Village's Sleigh Rides. Sleigh Rides are Friday, Saturday, Sunday and Holiday Weeks 6pm-10pm. Sleigh Rides are only available to Guests staying at Attitash Mountain Village Resort. Please call or visit the Front Desk to schedule your sleigh ride. Advance Reservations are highly recommended. Guest walk-ins are welcome, and are on a first-come, first-served basis. Please note availability is not guaranteed. Cancellations must be made 24 hours in advance for refund. Tickets will be charged at time of reservation, to be picked up at the Attitash Mountain Village Front Desk. Tickets may be purchased at the Attitash Mountain Village Front Desk and available on a first-come, first-served basis. Leigh Ride Rates: $20.00 for Adults, $15.00 for Children 17 and under, free if child rides in adult lap (ages 4 and under) Departure Schedule: Sleigh rides last for approximately 30 minutes. *Please arrive at least 15 minutes prior to your scheduled departure time.

Add so much more…

There are ping pong tables are in Building 7 and in the Pickering House and ping pong paddles and balls are available at the Hospitality Building front desk. The game rooms are located in the Hospitality Center and the lower level of Building 7, open daily from 9 am until 10 pm. They have Foosball, arcade-style video games, pool table, and T.V. a lounge area and more.

Some soda and candy Machines are located at various places throughout the resort, including in the Hospitality Center, at the outdoor pool, and near the gym. On chilly fall and winter nights, join us near the tennis courts for our gathering around a cozy fire pit where you can sing songs, tell stories, toast marshmallows, and more.

Be sure to check the Hospitality Building for information on the many fun scheduled activities for adults and children. Please confirm the availability and location of any amenities, by calling the front desk before heading out to use them.

Don't forget Storyland is just a 5 minute drive from here and you can drive to Santa's Village (open even in the summer) in less than an hour. Check with the front desk, they usually have discount coupons for local area attractions, including skiing.

From our home, not only is Attitash Ski Area is just a 5 minute walk across the street but Mt. Cranmore Ski Area, Wildcat Ski Area, Bretton Woods Ski Area, Black Mt Ski Area and King Pine Ski area are all very close too. You can enjoy local things like Echo Lake just 10 minutes away, where families enjoy swimming, boating and more. Also don't miss the famous "Diana's Baths", amazing waterfalls, mountains, hiking and biking trails, amusement parks, amazing shopping, and so much more.

If you haven't been to the top of Mt. Washington (the highest peak in the Northeastern United States at 6,288.2 ft and the most topographically prominent mountain east of the Mississippi River) there are 3 ways to do it and all of them are close to our home and great fun. You can go up by foot, by car or even by train in the amazing historical Cog Railway. Seriously, if you've never been, you really should try it. Just make sure to bring a jacket or sweater, because even in the middle of summer, it's chilly up there. On a clear day you can see for hundreds of miles into 5 states, all the way to Boston Harbor, and even into Canada.
There is so much to see and do it can be overwhelming. But not to worry, we've created a Guest Information Book that is now in our home for your convenience and we also made a digital version and put it online on the web for you. It contains hundreds of things to do and places to go including phones number, directions, opening and closing times and so much more.

We are also available as your personal "unofficial" free concierge during your stay. Whatever you need, we are here for you. Nothing but the best for our guests.

Sure there are other places in this area to stay, but none of them even come close to what we offer for our guests. Come and stay with us and be treated like royalty, you deserve it!

Great News for Skiers and Snow Boarders:
VAIL now owns ATTITASH !!!! Havwe a ski season without limits. Get your unlimited WORLDWIDE ski pass now! The Vail Epic pass will not only get you unlimited action at Attitash, you will also get unlimited, unrestricted skiing at their best resorts all over the world, literally! Unlimited, unrestricted skiing or riding at Vail, Beaver Creek, Whistler Blackcomb, Breckenridge, Keystone, Park City, Heavenly, Northstar, Kirkwood, Stowe, Crested Butte, Okemo, Mount Sunapee, Stevens Pass, Wilmot, Afton Alps, Mt. Brighton and Perisher (2020 access). Limited access at Telluride, Resorts of the Canadian Rockies and Hakuba Valley-Japan. *NEW FOR 2019/2020* Now includes 7 days at both Sun Valley and Snowbasin, 5 days total at Rusutsu-Japan, and unlimited, unrestricted access at the 17 Peak Resorts ski areas, including Hunter Mountain and Mount Snow! Plus unlimited access Falls Creek (2020 access) and Hotham (2020 access) International Access: Includes access to 22 European resorts across France, Italy, and Switzerland! Now includes up to 7 days at Les 3 Vallées in France and Skirama Dolomiti Adamello Brenta in Italy with no restrictions! The only multi-resort pass to offer significant access to European skiing and snowboarding. Les 3 Vallees, Skirama Dolomiti Adamello Brenta in Italy, and 4 Vallees in Switzerland are all a part of Epic Pass access.

FAIR TRAVELER POLICY

We ask all of our guests to follow the Fair Traveler Policy. The Fair Traveler Policy is spreading around the world and is quickly becoming the standard in the hospitality industry. It basically asks guests not to do things that are commonly known to bother other people. For example, the same way no one microwaves fish in the shared office microwave because it causes so many problems during and after the act, this policy addresses those type of things and more. The guidelines of the Fair Traveler Policy are as follows:

"We agree to try our best to be good neighbors to the people around us and to the people who will be coming to stay after us. We agree to not leave behind any trash or debris, or produce or leave behind strong odors that might linger after we leave like cooking odors, most notably fish, perfume, cigarette smoke, incense, and any other things that produce strong odors. Especially problematic is cooking with strong spices like curry, ginger, garlic, cayenne or cumin. We also agree not to produce noise and other conduct that is broadly defined as an activity that interferes with another's quiet enjoyment of the property. This Fair Traveler Policy also includes anything not listed that is commonly known as something that might bother others. We all need to respect each other and be fair to each other as we share this wonderful planet together."

Again, our home as well as the entire building is a smoke-free environment where no smoking is permitted by law. Smoking outside is permitted but we ask that you please make sure any doors or windows near where you are smoking outside are closed tight to prevent smoke from coming inside. We thank you in advance for your understanding and appreciate your full cooperation in these matters. If for some reason you are not comfortable following the Fair Traveler Policy, we respectfully ask that you find another source for your lodging needs.

Note: There is an optional damage insurance that you can purchase. It covers you for accidents that may happen during your stay that cause damage to our home. It's just $59.00 for $1,500.00 of coverage, $79.00 for $3,000.00 coverage, $99.00 for $5,000.00 coverage. We highly recommend it. Information on that insurance can be found at propertydamageprotection on the web. We feel that the peace of mind that it provides during your stay is well worth it. We always buy it when we stay away from home, but again, it is not required.
Priestor spálne
1 manželská posteľ, 1 menšia manželská posteľ, 1 jednolôžková posteľ
Prístup na pláž – pobrežie
Bezplatné parkovanie priamo v objekte
Vstup pre hostí a parkovanie
Prístup bez schodov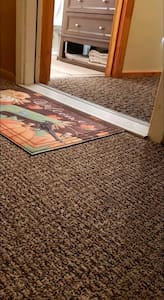 Dobre osvetlená cesta ku vchodu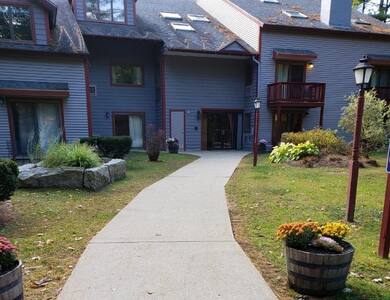 Cesta bez schodov k vchodu pre hostí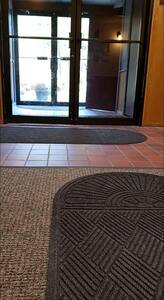 Adaptívne vybavenie
Bazén s bazénovým zdvihákom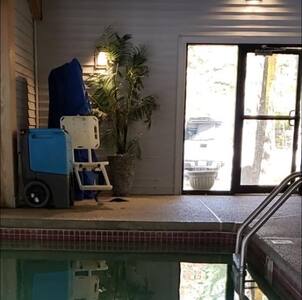 Ak chcete presne stanoviť cenu, pridajte dátum cesty.
5,0 out of 5 stars from 30 reviews
Bartlett, New Hampshire, Spojené štáty
Počas vášho pobytu
Always at your service! I have a large team of amazing professionals that are ready to take great care of you during your stay.
Jackie je superhostiteľ
Superhostitelia sú skúsení, vysoko hodnotení hostitelia, ktorí chcú svojim hosťom čo najviac spríjemniť pobyt.
V záujme zvýšenej bezpečnosti pri platbe nikdy neprevádzajte peniaze ani nekomunikujte mimo webovej stránky alebo aplikácie Airbnb.
Pravidlá pobytu
Samoobslužné ubytovanie: kódovaná schránka na kľúče
Žiadne večierky ani iné podujatia
Zdravie a bezpečnosť
Platia usmernenie o spoločenskom odstupe a ďalšie usmernenia Airbnb týkajúce sa ochorenia COVID-19
Kaucia – ak poškodíte bývanie, môže sa vám účtovať až $299
Preskúmajte ďalšie možnosti v meste Bartlett a jeho okolí
Ďalšie možnosti ubytovania v meste Bartlett: